Janet ďJennyĒ MACGREGOR, 1846 - 1917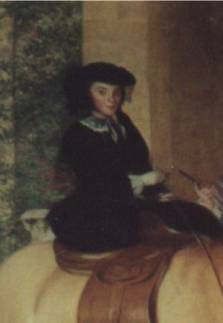 Jenny was the last of the children that Margaret Fleming gave John Macgregor before she died. After her death, John went on to marry Margaret York in 1851.

Jenny was therefore brought up mostly by her step-mother and spent much of her life with her. The picture above shows Jenny on a horse outside Finnart. To the right and out of the picture is Margaret York, who's hand is just visible.

Her father was one of the joint proprietors of the shipyard Tod and Macgregor in Meadowside, Partick.

After her fatherís death, Jenny and Margaret York remained together until Margaretís death in 1901 at Bridge of Allen. In the 1901 census they were shown to be living together at Albyn Lodge with William York Macgregor, the artist and Margaret Yorkís son.

After Margaretís death Jenny remained with her stepbrother and assisted as executor of her other stepbrotherís will. Peter Macgregor had three children, who were orphaned by his death. William York Macgregor and Jenny took responsibility for them, educating Peter and Ivor at Dollar Academy. Claude was educated at Edinburgh Academy.

Jenny died on 26th August 1917 and is buried at Logie Old Church, near Bridge of Allen.