Muriel JENNINGS, 1886 – 1967
<![if !vml]>

<![endif]>Muriel was born on 8th June 1886, at 66 Fentiman Road Kennington. Her father was Henry James Jennings her mother was Christiania Hubbard. But Henry never knew his daughter as he died on the 20th of February 1886. Christiania and the baby later moved to 29 Ravensdon Street, Lambeth.
On the 20th August 1890 Christiania married Peter Macgregor a barrister and probable a friend of Henry's. The family moved to Worthing, where they were found in 1891 at 4 Warman Terrace, Seville Road with a servant.
They had four children together:
<![if !supportLists]>· <![endif]>Peter Macgregor, born Worthing on 17th January 1892, Died 25th November 1918 in Aberdeen.
<![if !supportLists]>· <![endif]>Ivor Gregor Macgregor, born at Shoreham on 25th April 1894.
<![if !supportLists]>· <![endif]>Christiania Macgregor, born at Hove on 2nd October 1895, died of whooping cough 15th November 1895.
<![if !supportLists]>· <![endif]>Claude William Macgregor, born at Hove, on 8th November 1897.
Christiania died of typhoid on the 11th of July 1899 at Hunston, Rutland Road, Hove. Her grave is at St Leonard's Aldrington in Hove. Her sister Edith Hubbard looked after the children prior to Peter's death.
Peter only survived Christiania by two years before dying of a brain tumour on 22nd April 1901, and Edith brought up Muriel after Peter died.
<![if !vml]>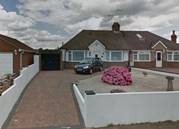 <![endif]>It is not certain what happened to Muriel after that until 1939, when Muriel is found at 1 Sunningdale Road, Worthing, married to Percy Rowe, a master mariner born on 4 March 1881 in New Brompton, Kent. Percy's father was William Rowe a quartermaster of the Royal Marines, who had also served in Gosport and Walmer.
Percy dies in Worthing in the first quarter of 1966 Muriel following him in the second quarter of 1967.