Margaret MACGREGOR, 1836 - 1878
Margaret Macgregor was the eldest daughter of John Macgregor of Finnart and Margaret Fleming. She was born on 2nd October 1836 at Barony, Lanarkshire.
Her father was one of the joint proprietors of the shipyard Tod and Macgregor in Meadowside, Partick.
On the 24th of June 1862 Margaret married Andrew Wingate at 19 Park Circus, Glasgow.
Andrew was the son of shipbuilder; Thomas Wingate and Margaret Patterson. Thomas Wingate would have been known to John Macgregor and it is likely that Margaret met Andrew through this connection. Andrew had six brothers and two sisters, born between 1821 and 1845.
They had no children, and were living at Oswaldbank at the time of the 1871 census.
Margaret died of pneumonia in Oswaldbank, Partick on the 5th of November 1878. She left £15,532 in her will, a significant sum at the time.
Her memorial stone is to be found in the Glasgow Necropolis: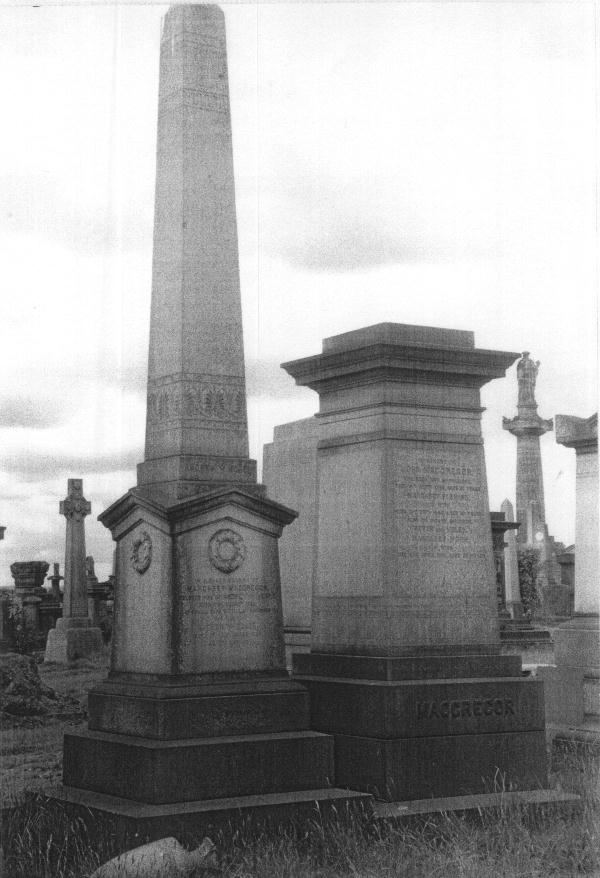 On the 7th of September 1880 Andrew remarried at Ashlea House, South Beach, Troon. He married Margaret Ashmore Kyle from South Beach, Troon. She was born 4th May1839 to land surveyor Thomas and Jane Ashmore.
He died on the 10th of May 1909 at Underwood, Crief.