Henry JENNINGS, 1831 - 1886
Henry James Jennings was born in Saint Pancras, London on 25th of April 1831 to Thomas Michael and Susanna Cooper. George described himself as a Gentleman, they had married on the 26th May 1816 at Saint Martin in the Fields, Westminster. Henry was christened on 22nd May 1831 at Old Church, St Pancras.
Henry Jennings was the youngest child and had three sisters and three brothers:
James Jennings, christened on 12th January 1817 at Old Church, St Pancras.

Thomas Jennings, Born on 8th December 1818 at St Pancras.

Susan Caroline Jennings, Born on 29th November 1820 at St Pancras.

Elizabeth Jennings, Born on 9th May 1823 at St Pancras.

Charles Jennings, Born on 10th September 1825 at St Pancras.

Jane Jennings, Born on 12th December 1827 at St Pancras.
Henry qualified as a solicitor and was admitted into the Law Society in the Trinity Term 1877 and in 1881 was practicing and living at 53 Lincolns Inn Fields, London as the tenant of Charles Wickens.

On the 10th of September 1885, at the St Giles Register Office, he married Christiania Hubbard was born at Blewitt Street, Newport Monmouthshire (Gwent) on 9th of October 1861 to Station

Master

George & Christiania Hubbard.

They lived at 53 Lincolns Inn Fields and had a daughter Muriel (born 8th June 1886, at 66 Fentiman Road Kennington).

But Henry never knew his daughter as he died on the 20th of February 1886.

After the death, Christiania moved to Fentiman Road and later lived to 29 Ravensdon Street, Lambeth.

She married Peter Macgregor on the 20th August 1890.

She died of typhoid on the 11th of July 1899 at Hunston, Rutland Road, Hove.

Her grave is at St Leonard's Aldrington in Hove. Her husband only survived her by two years before dying of a brain tumour on

22nd April 1901.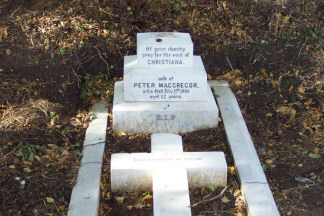 After his death, Muriel was looked after by Christiania's sister Edith Hubbard.