Norman YORKE, 1878 - 1952
Norman Dewar Macgregor York was the seventh son of James York and Anne Macgregor.
He was born on 26th April 1878 at 56 Union Street, Greenock.
His father was a harbour contractor in Greenock
.
In 1887, when Norman was only 9, his mother died and at that time the family moved to 7 Park Quadrant, Glasgow.
Norman was still there in 1901 at the time of the census, he was described as an apprentice engineer.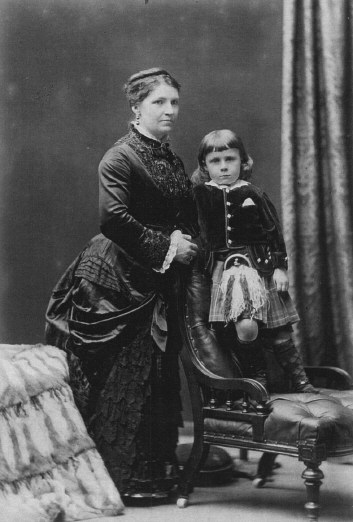 Norman with his mother Anne Macgregor
It is not clear the family changed its name from York to Yorke between 1881 and 1891. There is a story of a York family rift that caused the change.
On the 6th July 1914 h
e married Mary Davis Hamilton Black (born at Kilmory, Island of Arran on the 7th of June 1888, the daughter of Church Minister Duncan Black and Susanna MacDougall) at 125 York Drive, Glasgow. George Black and Effie Campbell were witnesses.
Duncan Black was Rev. James Curdie's Assistant on Gigha from 1869 to 1876, Catherine (1873) and Euphemia (1874) were born whilst they were there.
At the time he was living at 16 Ryder Street, Cardiff and she at 125 York Drive, Glasgow.
They had at four children:
Walter Yorke, born 1915, died 2001

George Macdougall Yorke, born in March 1921 (died in Infancy after two months on 12th May 1921)

Norman Yorke, born in 1922 married Winifred Graham in 1967,

Catherine Yorke, born in 1923 , married James Chalmers 1952 had two daughters Catherine 1954 and Susan 1957. James died in 1980.
Norman died on the 9th March 1952, aged 73.
Mary died on 2nd Nov 1964 aged 76.